Climate Change
A humanitarian crisis
Climate change. It's happening now.
Extreme weather events are dominating the disaster landscape in the 21st century, causing a devastating loss of life, major disruption to development and destruction of natural habitats. In the period 2000 to 2019, there were 7,348 major recorded disaster events, claiming 1.23 million lives and affecting 4.2 billion people - a sharp increase from the previous 20 years. Worse is forecast for the next 20 years and beyond.
With the global climate changing at an unprecedented rate, we are seeing dramatic effects on natural disasters around the world. Increases in air and water temperatures have led to more frequent and more intense weather events, resulting in supercharged storms with high wind speeds, more intense and prolonged droughts and wildfire seasons, and heavier precipitation and flooding.
As a result, it is making it harder to live in many parts of the world. Vulnerable communities that contribute the least to climate change are suffering from the worst consequences, including loss of life, loss of natural resources, food insecurity and displacement. Many of these communities are affected by concurrent and consecutive disasters, leaving them with little time to recover before the next shock arrives.
The recent landmark study by the UN's Intergovernmental Panel on Climate Change (IPCC) concluded it is "unequivocal and indisputable that humans are warming the planet." UN Secretary General Antonio Guterres called it "code red for humanity".

"Climate change is not a problem of the future, it's here and now, and affecting every region of the world."
Friederike Otto, University of Oxford, and a lead IPCC author
Disasters Explained
Climate change is worsening large weather events like hurricanes, floods, wildfires and droughts; affecting thousands of people each year, all around the world.
They can cause widespread devastation, resulting in deaths, injuries, homelessness, damage to infrastructure and displacement of entire populations.
But why and exactly how do they happen? How often and where do they occur? How is climate change affecting natural disasters?
Learn more about natural disasters and their impact in our Disasters Explained factsheet.
Key Statistics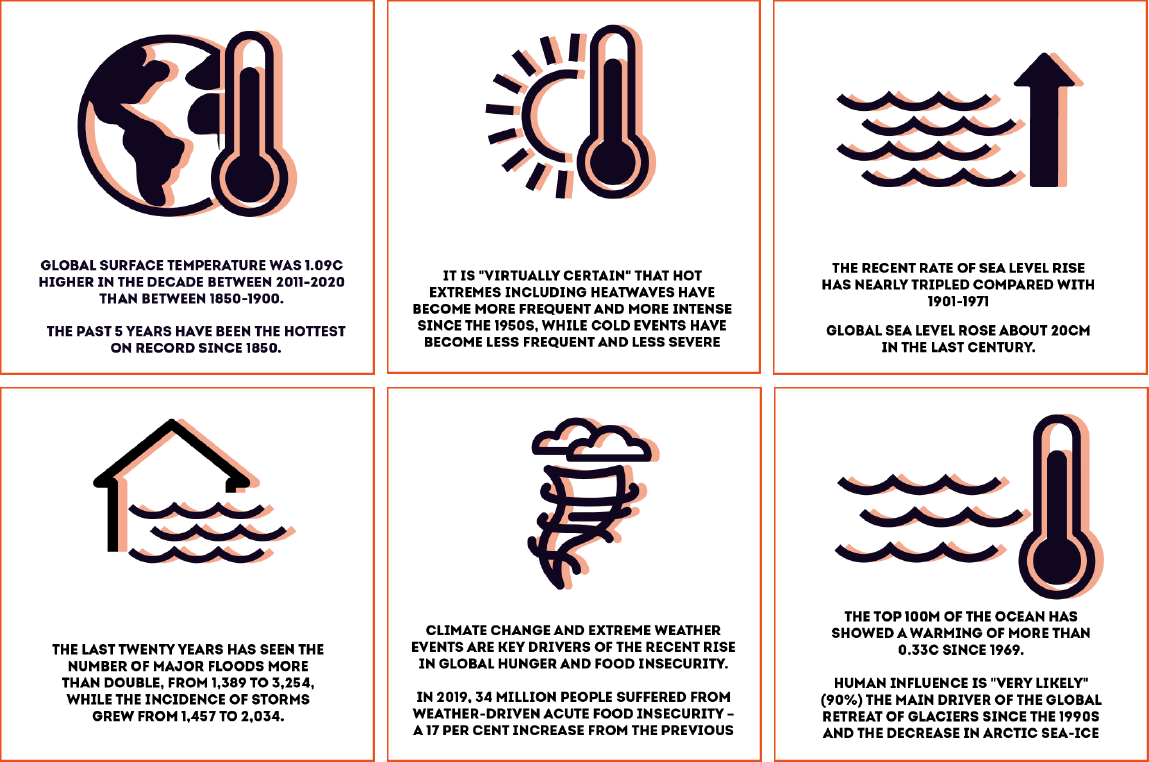 How does climate change affect people?
Around the world people are experiencing the effects of climate change. But it is the people who live in the poorest countries that suffer the harshest consequences, while having the least ability to cope. Their struggle to earn a living, feed their families and create stable homes is made more difficult as the climate crisis continues.
The increased frequency and intensity of extreme weather events like hurricanes, wildfires and floods threaten the lives of these communities, driving people from their homes and jeopardising food sources and livelihoods. All these effects increase the likelihood of more conflict, hunger and poverty.
We help vulnerable communities recover after disaster, but the climate crisis is making challenging situations worse. The effects of the changing climate are hitting many of the world's poorest people first, and hardest. And it's making poverty worse. It has been estimated that, by 2030, climate change could push more than 120 million more people into poverty. In 2021 alone, 235 million people will require humanitarian assistance.

The people who contribute the least to the climate crisis are the ones most affected.
Your support makes a huge difference.